MESSAGE FROM THE PRESIDENT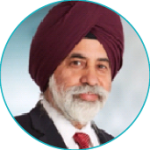 Mr. Sandeep Singh

President, ICEMA
Managing Director
Tata Hitachi Construction Machinery India Pvt. Ltd.
ICEMA COVID RELIEF & REHABILITATION INITIATIVES
With the steep second wave of COVID-19 sweeping through the entire nation, precipitating a health calamity of epic proportions and sparking fear, frustration, and anxiety all around, there is an urgent need for people, organisations, communities and societies to come together and make a concerted efforts to collectively defeat this pandemic.
We all, as responsible citizens, have a duty to support each other in this time of need, and therefore, nothing is more important than ensuring health and safety of our members, their families and their loved ones.
With a view to support its members, their families and loved ones in these trying times, ICEMA under its 'COVID Relief & Rehabilitation Efforts' has taken a number of initiatives. The details of these initiatives are given below:

With majority of COVID-19 cases in India being under home isolation with asymptomatic or mild symptoms, there has been a huge requirement for online medical consultation or teleconsultation. ICEMA has launched its (9:00 AM – 9:00 PM), helpline number (02135662705) to cater to the health consultation needs of its members and their families. Employees of ICEMA member organizations can now seek unlimited, anytime doctor consultation, medical prescriptions, and COVID-19 related emergency assistance through this number.

In view of the increasing shortage of life-saving oxygen in the country, ICEMA has procured oxygen concentrators which can be utilized by member company employees and their families, if need be. These concentrators are being deployed in 5 key locations, namely, Delhi, Pune, Ahmedabad, Kolkata and Bengaluru and very soon will be extended to 2 other locations i.e., Chennai & Hyderabad. The oxygen concentrators are expected to be available with ICEMA from 22nd May'21 onwards. ICEMA has also formed a COVID-19 Relief Taskforce in each of the above locations with a view to building a pool of resources for providing support during this critical time. ICEMA members can get in touch with either the Lead of the Taskforce in respective locations or the ICEMA Secretariat for procuring these concentrators in case of emergency. The details of taskforce leads and ICEMA Secretariat are given below:
Taskforce Leads
Mr. Jasmeet Singh | Delhi | Jasmeet.Singh@jcb.com
Mr. Abhinav Deep | Pune | Abhinav.Deep@sany.in
Mr. Raghavendra Shenoy | Bengaluru | Raghavendra.Shenoy@ajax-engg.com
Mr. Anirban Banerjee | Kolkata | Anirban.Banerjee@volvo.com
Mr. Jijesh Kurup | Ahmedabad | Jijesh.Kurup@ammann.com
ICEMA Secretariat
Ms. Paromita Chatterjee | Paromita.Chatterjee@i-cema.in
Mr. Vinay Rawat | Vinay.Rawat@i-cema.in

With the growing fear and anxiety around the disease and its consequences, ICEMA-Expert Talk Series "Together We Defeat the Difficult" has been launched from 14th May 2021 for all ICEMA members and their families. Medical experts form diverse streams have been invited to share critical information and awareness about several COVID-19 related issues and help break the myths around COVID-19 amidst this raging pandemic.
We are hopeful that ICEMA members will find the above initiatives useful and helpful. Members are requested to make the best use of the above services which are aimed at ensuring the well-being and safety of ICEMA members employees, their families and other stakeholders.
Our collective efforts will yield good results and enable us to overcome this unprecedented crisis.
Wishing you and your loved ones the best of health.