ICEMA COVID RELIEF & REHABILITATION INITIATIVES
Leading the Charge in Community Efforts
ICEMA and its members remain committed to building the nation not only by contributing to mission critical projects such as the National Infrastructure Pipeline but also by helping reconstruct lives impacted by the worst disaster that mankind has seen in centuries. Ever since the COVID-19 pandemic broke out ICEMA Members stepped forward to address the challenges through various initiatives.
A COVID-19 Task Force was set up to guide ICEMA's efforts in fighting the pandemic. The national level task force and state level task forces, comprising senior officials of member companies and ICEMA office bearers, were formed with a view to building a pool of resources for providing support and taking local initiatives.
Component Sourcing Taskforce
While lifting controls on manufacture of medical ventilators to plug their growing shortage, the Government of India reached out to the industry to manufacture this equipment. In this backdrop, ICEMA set up a Component Sourcing Task Force for supporting ventilator manufacturing projects. The Task Force connected with suppliers of components to help expedite delivery.
Launch of COVID-19 Helpline Number
A COVID helpline was launched during the 2nd wave for providing free online medical consultation to employees and families of member companies. Later, as a goodwill gesture the helpline was extended to member companies' dealer networks and suppliers as well as for non-COVID/ general consultations.

Deployment of O2 Concentrators
Members also distributed PPE Kits to CISF Delhi, Maharashtra State Government and the West Bengal State Government. CE industry members stepped forward to provide oxygen concentrators when the second wave peaked. ICEMA procured oxygen concentrators which could be utilized by member company employees and their families if required. These concentrators were deployed in 5 key locations of Delhi, Pune, Ahmedabad, Kolkata and Bengaluru and were later extended to Chennai and Hyderabad.
The Construction Equipment sector worked closely with the Government to mitigate the impact of COVID-19. ICEMA and the member companies launched several COVID-19 initiatives at their own level to ensure the safety of their employees and their families as well as to support the local/state Governments and communities.
Though the second wave of COVID-19 has begun to ebb, the fight against the pandemic is far from over. Knowing that the COVID-19 vaccine is one of the safest ways to bring the COVID-19 transmission under control, the Task Forces shifted focus to facilitating the vaccination drive. Under ICEMA's vaccination drive, camps were held at Hyderabad, Pune, Kolkata and New Delhi. While the camp in Hyderabad was supported by iQuippo & Kims Hospital, SANY took the lead in Pune and Volvo led the charge in Kolkata.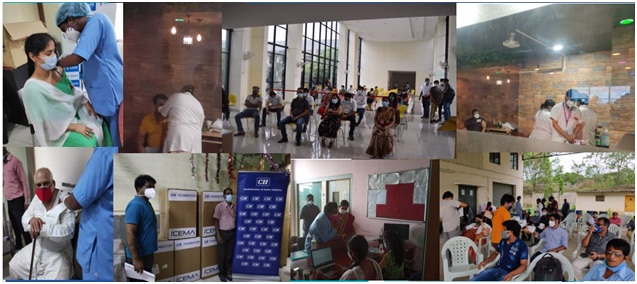 These vaccination camps, though organized by one anchor ICEMA member in each region, were open to all employees and families of all ICEMA and CII members in the region, vendors of the CE industry and equipment financiers. Through these camps, ICEMA helped vaccinate 240 people. This selfless effort demonstrated the CE industry's camaraderie and the pursuit of building the nation.
Support to CII Foundation
ICEMA also joined hands with the CII Foundation to support their COVID-19 relief efforts in Karnataka. ICEMA with partial support from member companies, together contributed a sum of INR 50 lakhs for procurement of oxygen concentrators and multi para patient monitors for 3 hospitals. In addition, these funds are being used for procurement of critical medical devices to augment the ICU facilities at 2 hospitals that generally treat a large number of paediatric patients.
Expert Talk Series on COVID-19
With the growing fear and anxiety around the disease and its consequences, ICEMA-Expert Talk Series "Together We Defeat the Difficult" was launched for all ICEMA members and their families. The talk series focused on pertinent topics such as COVID-19 general awareness, managing women & child physical and mental health and dealing with post COVID complications, drew as many as 1200 participants who joined virtually. The series titled Together we Defeat the Difficult attracted more than 4000 views on YouTube. Senior medical professionals and experts including leading pomologists and nephrologists helped the audience the pandemic and how to stay safe.
In another session on women and child wellbeing, experts including paediatricians and psychiatrists urged audience to stay safe, stay vigilant and not panic. The session on managing post COVID complications was also very informative. The attendees highly appreciated the sessions and got many of their queries resolved by the experts.